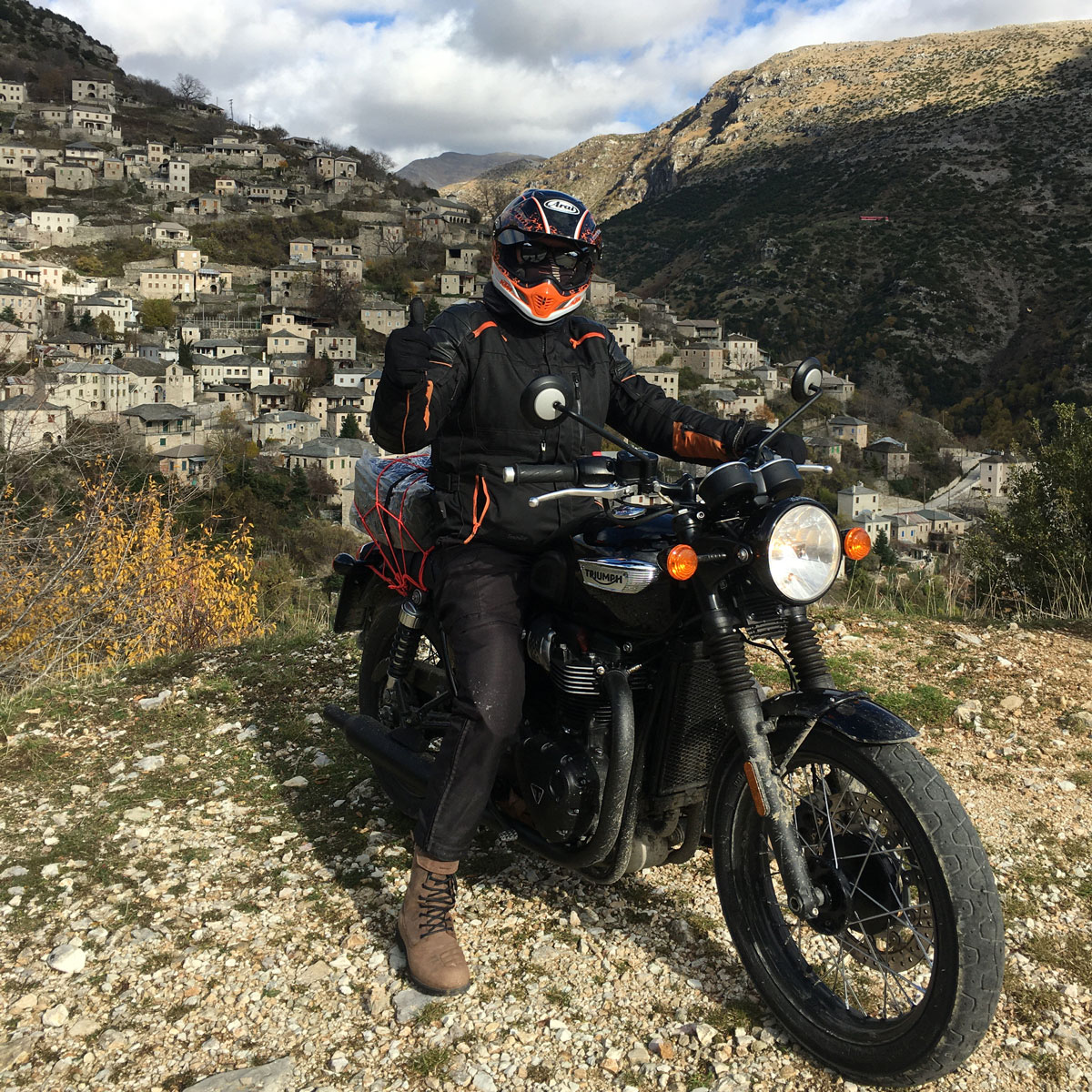 Two Friends, Two Motorcycles, One Road!
For a long time, I have had this idea of making a motorcycle trip, somewhere in Greece, running through my mind and I was already discussing it with my friends. I wanted this trip to be during the winter months and under difficult weather conditions.
During these conversations with my friends, everyone was wondering what would be different this time, since I have already travelled a lot by motorcycle in the past. My answer to them was "I have a different vision about it in my mind this time".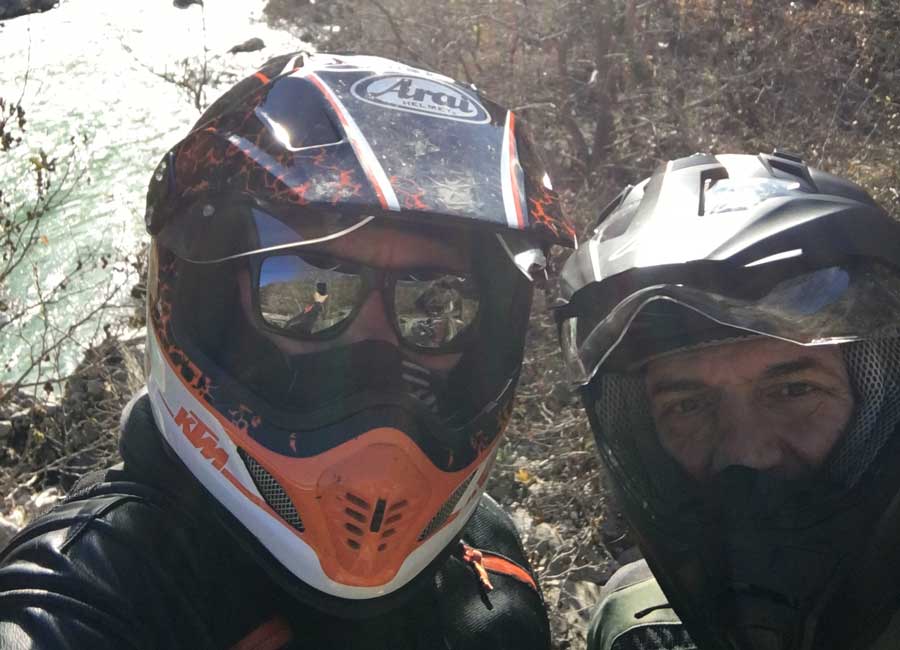 And you might be wondering: "what was that vision"?
First of all, I was fully aware, and I was realizing it more and more with all the people I have been training over the years, that people find it very difficult getting out of their comfort zone and the more they stay there the more inactive and passive they become.
When we just talk about the things we would like to do but we never act on them, it can makes us feel older and weaker, physically and mentally, and as a result, we eventually accept this situation and this is leading us to the beginning of the end!
So, that was my biggest motivation, to show people that they must get up from their couch and do things for them, not just stick to excuses and discussions, but keep their bodies and their minds active. This is the only way they will have energy, live a good life with quality and have mental balance.
It doesn't matter what they do, as long as it pleases them, depending on the time they have available and their financial status. The age doesn't play a role, only the mood and the motivation do!
This was for me the biggest motivation; to motivate people and inspire them to chase their dreams and make them come true!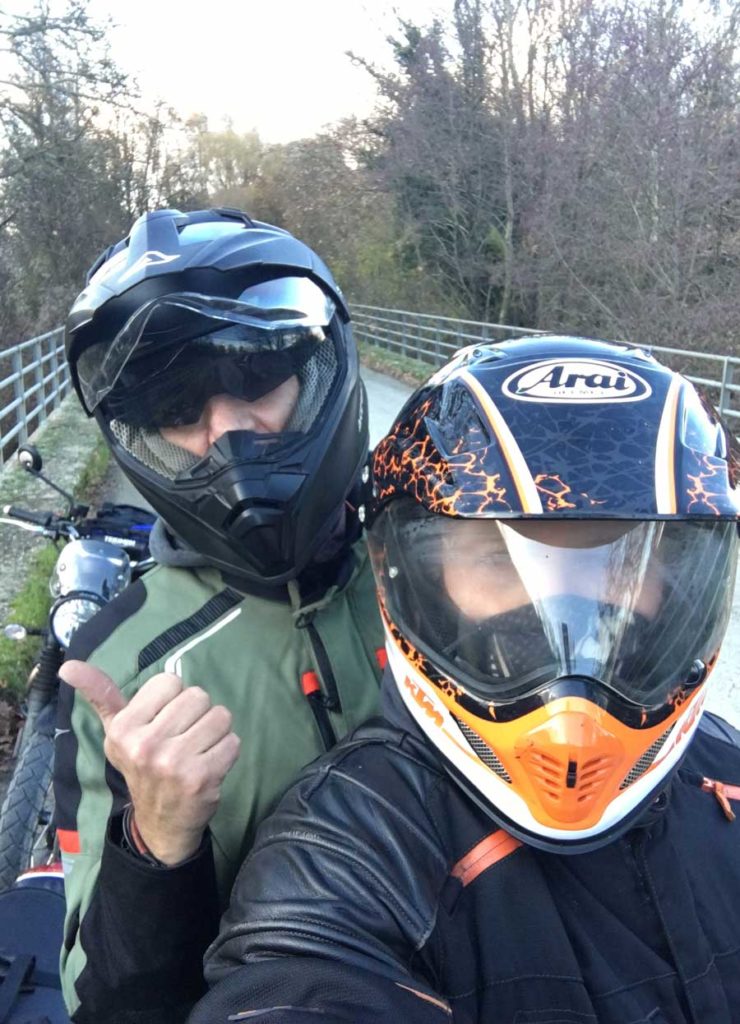 Now let me share a few things about the journey.
My friend Leonidas and I, share the same love for motorcycles and travel. For him of course motorcycles are his job. I am just a hobbyist in terms of this way of transport, which I consider to be the modern form and continuation of the ancient transportation with horses. So, I wanted to get two motorcycles from a specific company, Triumph Bonneville and Scrambler, that for me are a symbol and pioneers of the idea of motorcycling.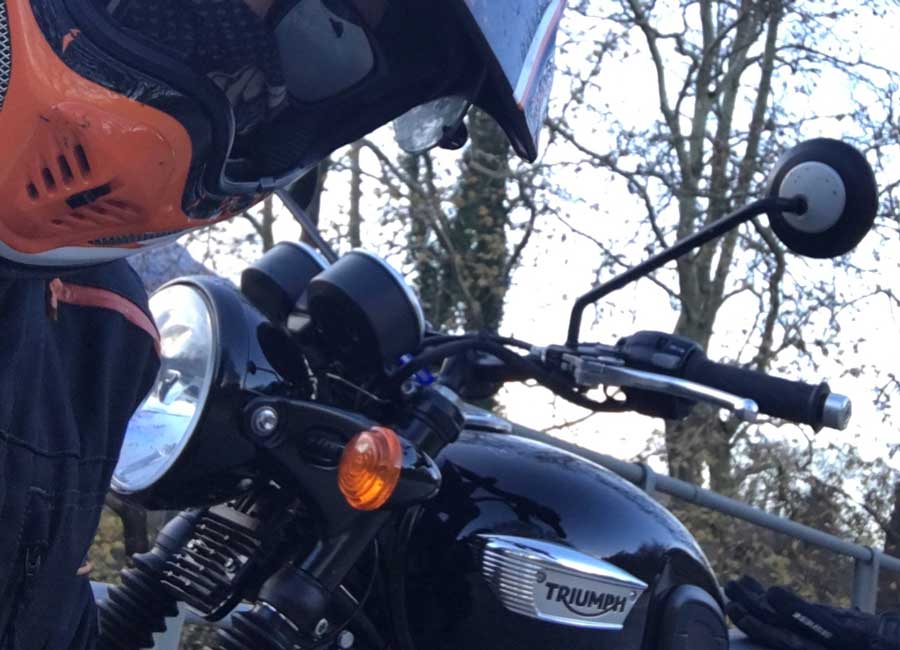 So I talked to the official representative in Greece and after explaining the whole project to them, I asked for a Bonneville and a street scrambler. The owners gladly provided us the motorcycles and so we were ready for the trip.
The period being beginning of December would definitely make the weather unpredictable and especially in the lower parts of Ioannina city, where weather conditions can worsen from one moment to the next, but with the appropriate equipment everything is under control.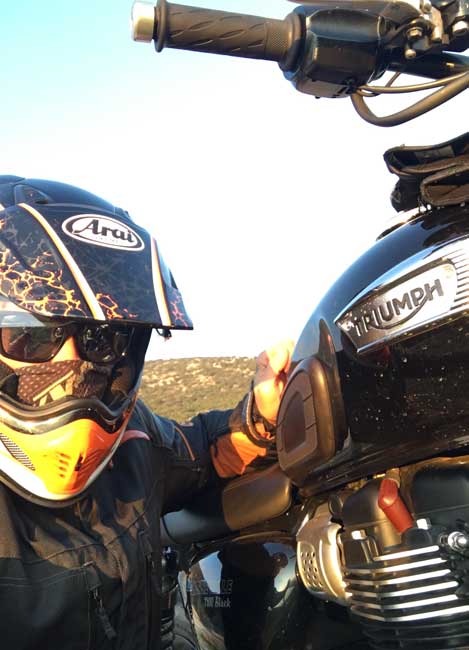 So while I was riding the Bonneville to bring it home with me the day before our departure, I said to myself: ''it's so beautiful looking at it, but how nice would it be to travel with it for many miles on the road?''. Leon was also wondering the same for his scrambler. Of course we would find this out along the way.
At this point, I would like to say that my impressions are just of a motorcyclist who has been riding motorcycles for many years, I will share my personal opinions. I am neither a journalist specialising on this topic, nor a technician, I am just a fitness trainer!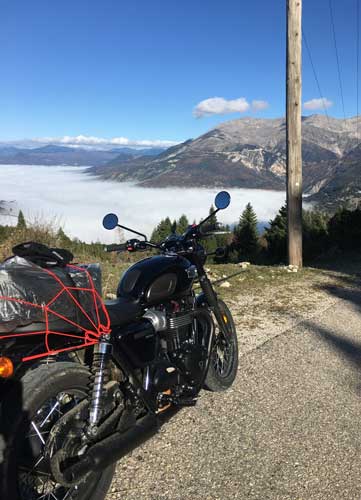 After travelling the first 200 kilometres to the bridge of Rio-Antirio, and then another 230 kilometres to Ioannina city, I slowly began forming an opinion about the engine. Although it is not made for travelling long distances on a highway (its specialization is the turns and country roads), you can travel decently and comfortably at 120km / h without any hustle!
The engine is a "diamond" with incredible torque from underneath, that makes you feel like you are driving an automatic motorcycle. It has a very comfortable driving position, ergonomics and comes with all the modern electronic aids.
The next day, we went uphill to Zagorochoria, according to our plan, to explore the villages of central Zagari. As soon as we left the highway and started taking the turns uphill, I understood what the motorcycle is actually made for. Turns, in combination with the landscape, the good weather conditions (cold but sunny) and the wonderful sound of the engine, made me feel like I was in paradise!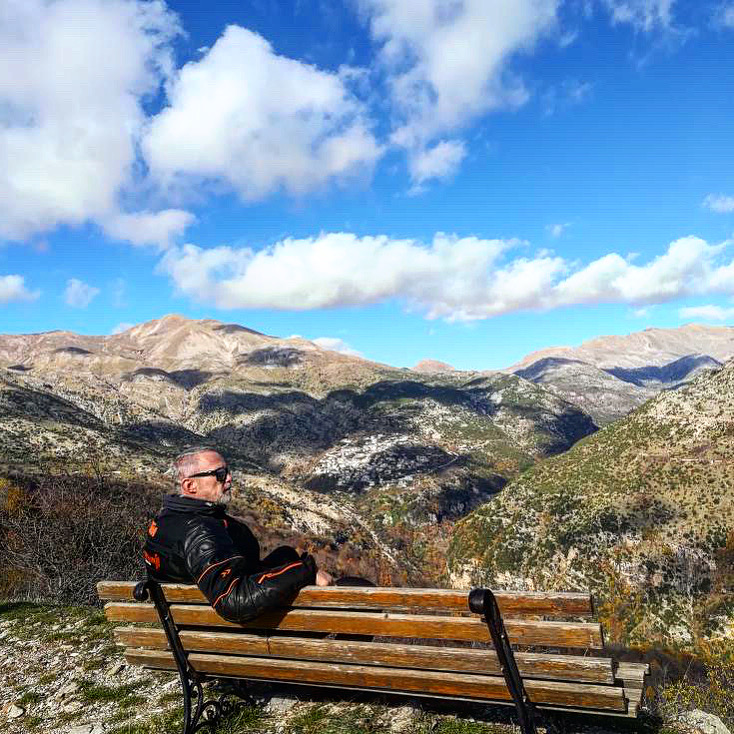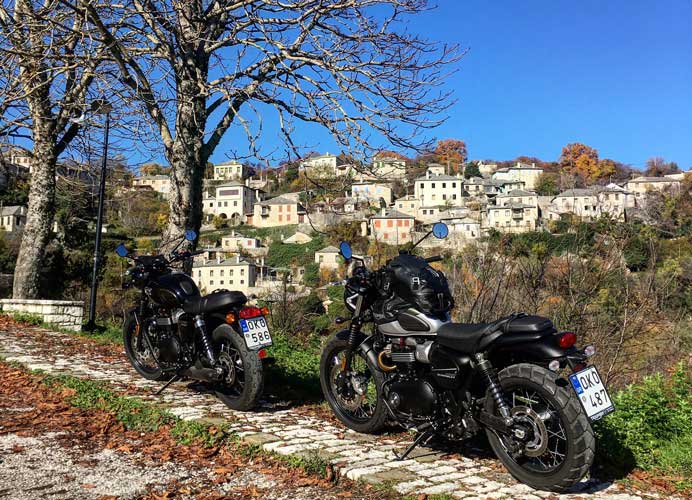 That day we travelled for 120 kilometres, we passed by incredible places going up and down the mountains. We saw wonderful places, villages of incredible beauty, nature was constantly changing forms as did the colours. What I was experiencing really awakened all my senses!
Asprangeli, Vitsa, Monodendri, Vradeto, Kapesovo, Anthrakitis, Miliotades, Baltuma, Mikri Gousta are some of the villages we saw. The next day it was time to go back to Ioannina city and we decided that from there we would first explore Tzoumerka and then take the national road from the height of Arta.
Seeing Sirako, Kalarrytes, Pramanta, Agnanta, Plaka bridge, Platanoussa, was another magical experience, I saved as many images as I could, I breathed in smells, sounds from the nature and emotions that would accompany me on the trip back home. While writing these lines, all the emotions I felt in this two-day motorcycle journey come to my mind and it is like I am reliving every turn, seeing every image, hearing every sound, having every smell in my nose. This is what you carry with you forever and you just renew it on your next trip!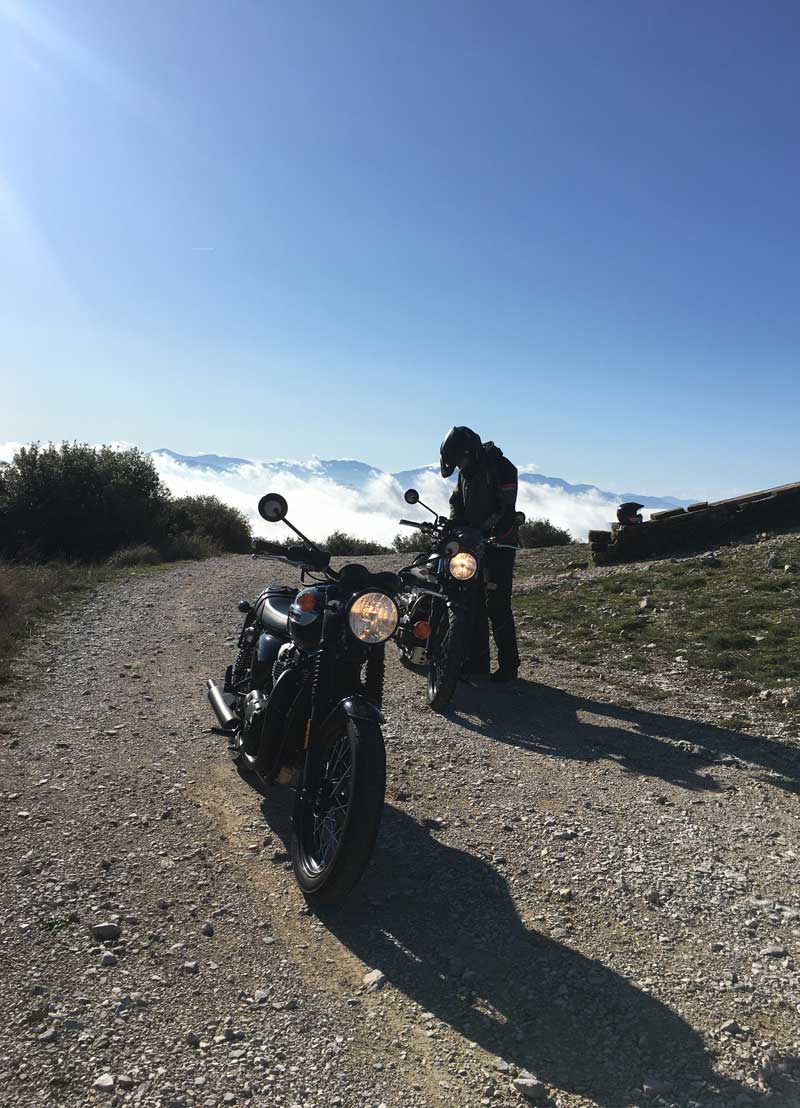 Travelling for me is a way of life, it broadens your spirit, it makes you a better person, it helps you face everyday life and challenges with more calmness, it gives you mental balance. Travelling specifically with a motorcycle for those who like it, makes a whole different experience that I cannot describe in words. It gives you the feeling of freedom, independence, it is just you and the road in front of you!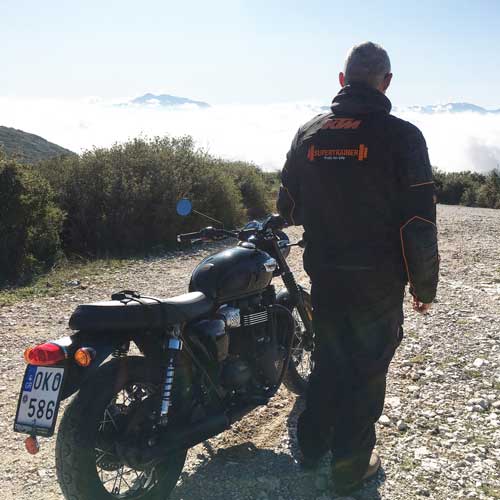 Create memories to share with those around you when you will not be able to experience them yourself anymore, take care of your body's good condition by exercising, so that you are able to do the things you want. Train your mind to have balance in your life, get out of your comfort zone, do the things you think about doing. Life is all about dreaming, planning and making it happen, and as I say, life is a good shot (one good shot), you have no second one!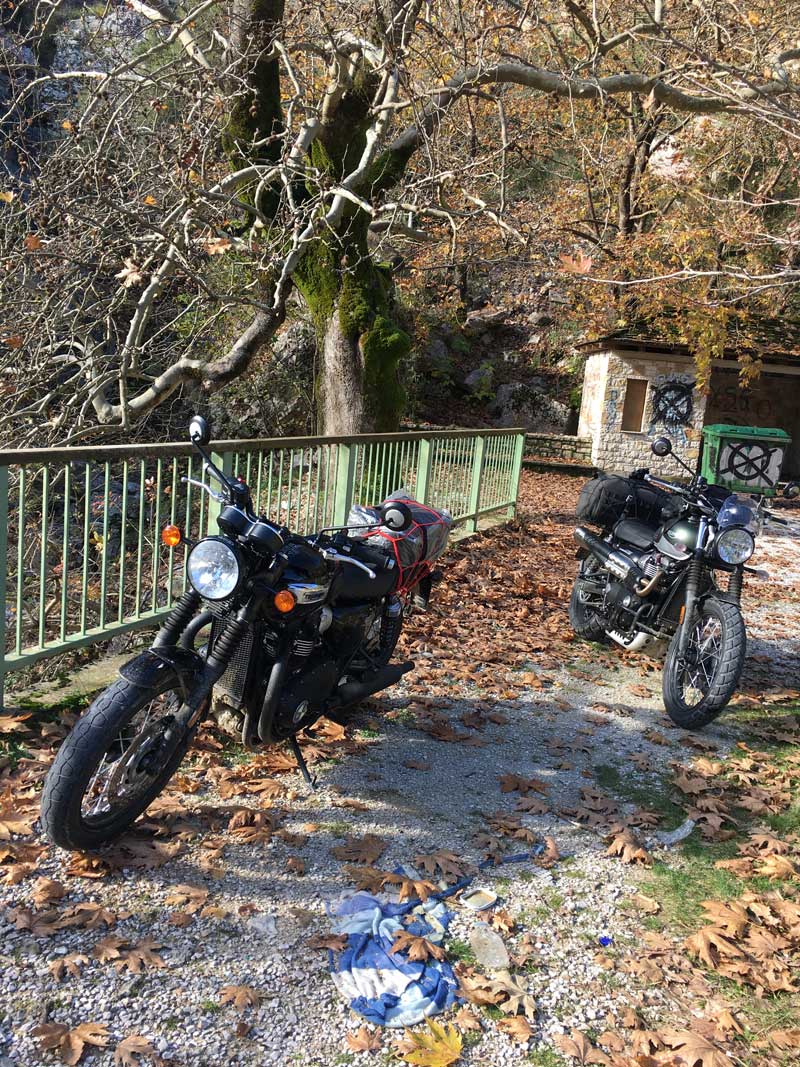 Finally, I would like to thank the Triumph representative in Greece that provided us the motorcycles, it was my honor. I would also like to thank my good and dear friend Antonis Korakakis who always believes in me, my good friend Achilleas Papaefthymiou, owner of the Alpine Zone in Ioannina city who helped us and he always helps me personally. Last, but not least, a big thank you to my companion Leonidas Politis. Thank you my friend for sharing my vision. The best is yet to come!
I have a dream !!!!!!!!
Mitsaris Kostas
Certified Personal Fitness Trainer
Sport&fitness Nutritionist Life Coach
Author "The well-being bible"
www.supertrainer.gr
This error message is only visible to WordPress admins